Thank you for your interest in contributing your data to the COMPADRE Plant Matrix Database and the COMADRE Animal Matrix Database. COMPADRE and COMADRE are open-access online repositories for plant, animal, algae, fungi, bacteria, and virus matrix population models and will always be publicly available and free to use. Our goal is to facilitate large-scale investigation of timely and important ecological and evolutionary questions, and our online data entry portal is designed to make your contribution to this goal as straightforward and simple as possible.
Here, you'll find a brief overview of the digitization process (from creating an account to submitting your completed data) and the confirmation process that happens after data submission. Before digitizing your data, please review our comprehensive protocol for public users, which includes definitions and examples for each of the data entry fields.
Once you've completed the process and submitted your data, your data will assigned a permanent link that can be publicly accessed for replicability and journal submission requirements.
Thank you again for your interest in COMPADRE and COMADRE. Please feel free to contact us with any questions or comments regarding this process.
---
Creating an account
The first step in the data entry process is account creation. You can create your account here.
Registration for compadre-db.org is intentionally minimal since the data you choose to submit to the database are entered manually rather than pulled from an account form. All you'll need to enter is your name, email, and a password of your choosing. Once you select 'Register', a confirmation email will be sent to your account. After confirming your email, you'll be able to login to your 'User Dashboard' by clicking 'Links' and 'Login' on the right side of the top banner.
---
The User Dashboard
The User Dashboard is where you'll create and manage your data submissions to COMPADRE and COMADRE. There are four links at the top of the dashboard.
Add New Publication - Begins the data entry process by creating a new "Publication" in the Publication form.
My Publications - Contains a list of your "Publications". From here, you can continue working from where you last saved or check the status of submitted data.
Add New Species - Adds a new species if your species was not listed in the 'Species' selection of the Population form.
Manage Profile - Allows you to change the name and email associated with your account.
Note: We use the term "Publication" in the Publication form for simplicity. In this form, you'll be able to select whether your data come from a 'Book', 'Book Chapter', 'Journal Article', 'Thesis' (which includes PhD Dissertations), 'Report', 'Conference', or 'Other' (which includes preprints and unpublished data).
---
Protocol overview
Data you submit to the COMPADRE or COMADRE databases is entered manually using three types of digitization forms: (1) The Publication form which contains metadata on the publication, such as bibliographic and study level information; (2) The Population form form which contains metadata on a population of a study species and allows for the interpretation of the matrix data; and (3) the Matrix form which contains the matrix population models themselves, as well as information that is matrix-specific.
Digitization begins by creating a new "publication" and entering the associated data. From this form, you'll be able to create new populations where you'll enter population-level details for a study species. From within the population form, you'll be able to create the individual matrices. Creating a new matrix will take you to a separate form to enter matrix-associated metadata, and once those data are entered, you'll be able to edit the matrix values from the population form. The image below is a simplified visualization of this data entry workflow.

Publications often contain multiple populations, species, and/or matrices (as in the examples below), but the workflow remains the same. Once a publication is created, you can create multiple associated populations from the publication form. Entering the population form for any of those populations will allow you to create multiple matrices associated with that population. Each matrix will generate its own matrix form, and once matrices are created, the values for any matrix can be edited from the population form.
Note: For publications with mutliple species at the same physical location, they should be entered as separate populations. Each unique population form is associated with a single species.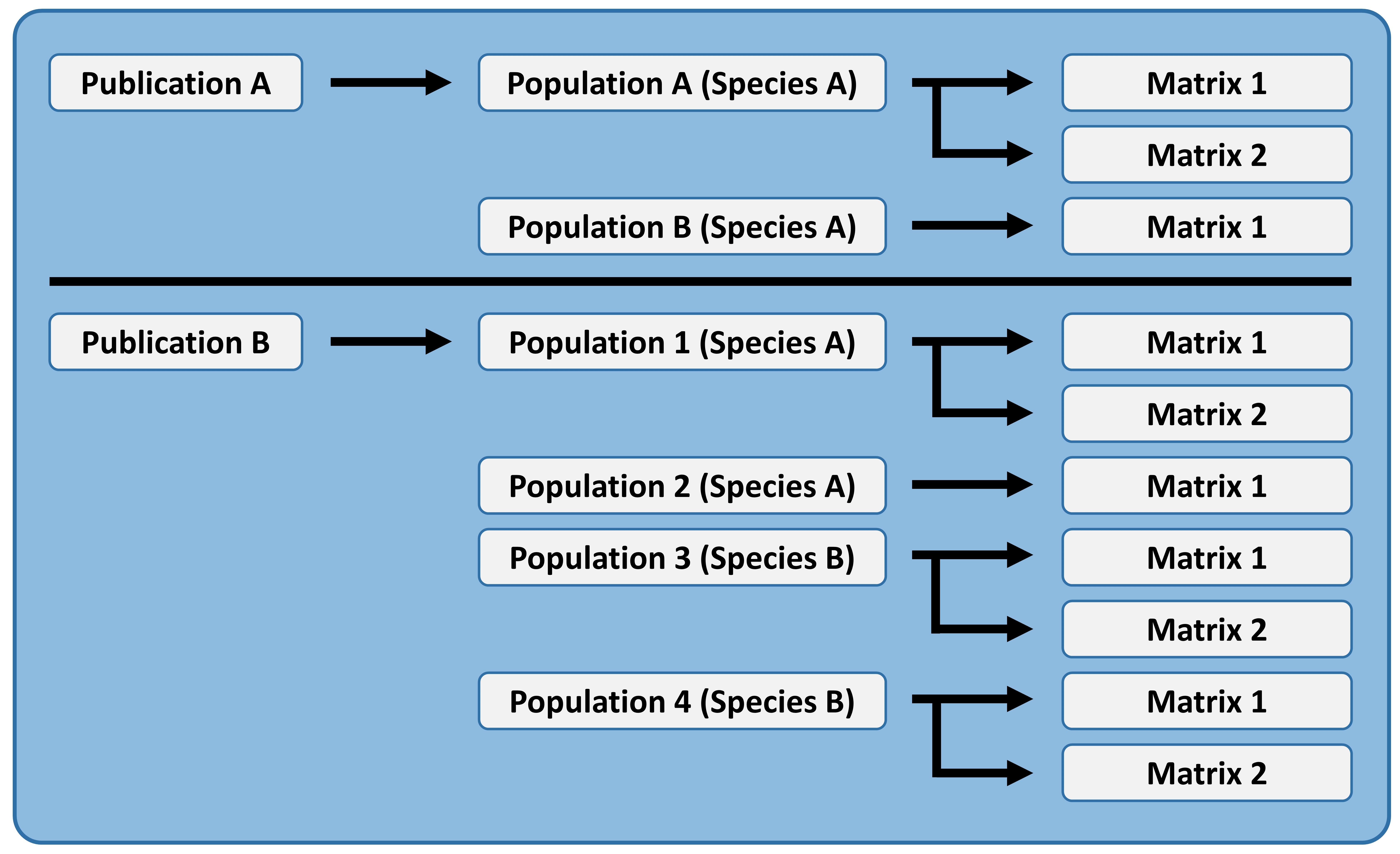 Once you've finished entering all population and matrix data for a publication, you'll use the 'Submit' button on the publication form to send those data to our digitization team.
Note: Once you submit data for review, it can no longer be edited unless our digitization team sends it back to you for correction.
After submission, a notification is sent to our digitization team, and your data is queued for review. Once our team has determined all fields and forms are complete, the data will be released to the database and included in the next version release of COMPADRE or COMADRE. Version releases occur in the first month of each quarter of the calendar year and intermittently between the quarterly releases if deemed necessary by the digitization team.